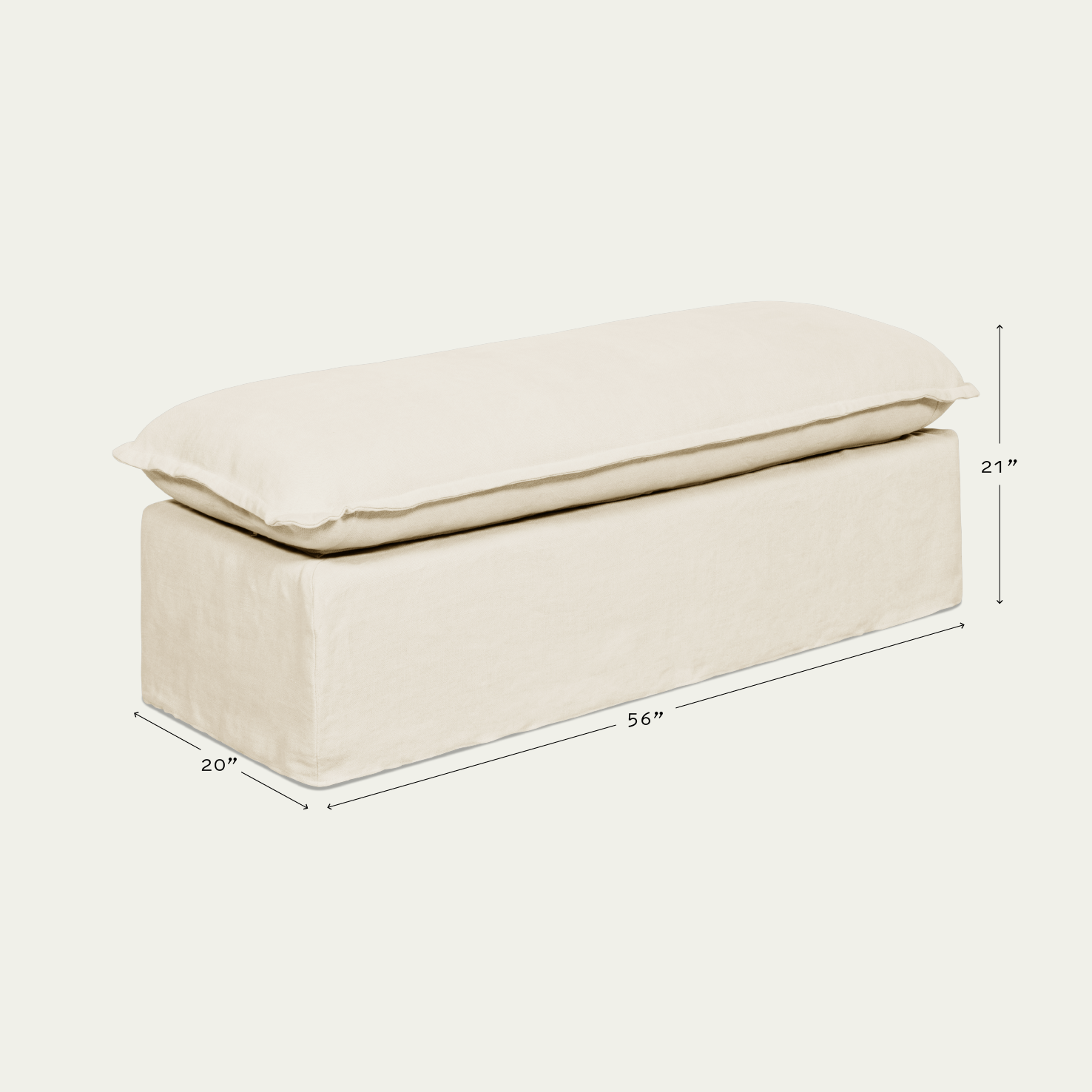 The nitty gritty
DIMENSIONS
Overall dimensions: 56"L x 20"W x 21"H
Seat height: 21"
Seat width: 56"
Weight: 52.25 lbs
Box dimensions: 59"L x 23"W x 23"H
Our furniture is hand-made and in many cases quite soft so keep in mind dimensions may vary by an inch or two.
Construction
Slipcover: Loose design with oversized French seam
Frame: Kiln-dried hardwood & plywood
Legs: Solid rubberwood
Suspension: Webbing & sinuous spring
Cushions
The seat cushion of the Neva Dining Bench contains three layers: your choice of loose fill (Feather Down or Poly Fill) at the top and bottom, and a "support layer" of high-density foam sandwiched between the fill for structure and stability. The fill makes up 40% of the overall cushion, and the foam makes up 60%.
Our lofty Feather Down is ethically-sourced, and our vegan Poly Fill is designed specifically to mimic the familiar fluff of feathers. We mix a small percentage of vegan poly fiber into the Feather Down fill for a bit of spring. Learn more about our vegan Poly Fill and Feather Down here.
Seat Cushion: 60% foam, 40% loose fill
Feather Down: 60% supportive foam core, 25% ethically-sourced feather, 3% ethically-sourced down, 12% vegan poly fiber
Poly Fill: 60% supportive foam core, 40% vegan poly fiber
Care
Our cushions are exceptionally soft, and the fill is loose—not a block of foam—so periodic fluffing will go a long way. As a rule, the fluffier the cushion, the more upkeep it will require.
You can read more about day-to-day maintenance in our post, "Getting to know your Sixpenny."
EVERYDAY DUST & DIRT
Natural fabrics: vacuum (with an upholstery attachment if you have one).
SPILLS & STAINS
Treat spills as soon as possible by gently absorbing excess liquid with a clean, white cloth or scooping up standing spills with a spoon. Never rub a spill—it can damage the material. Check the care instructions for your specific fabric to see if spot-cleaning is recommended.
WASHING & DRYING
Natural fabrics: dry cleaning is strongly recommended. Machine washing is possible when following the specific care instructions for your fabric. Air dry until barely damp, then tumble dry on low heat to fluff up the fibers.
For detailed instructions on dry-cleaning, machine-washing, and spot-cleaning, check out our post, "Cleaning your slipcover."
Please note that consistent exposure to direct sunlight can lead to fading or discoloration. You can read more about fabric colorfastness in our post, "Fabric fading 101."
FREE HOME DELIVERY
30-DAY FREE RETURNS GUARANTEE
LIMITED LIFETIME WARRANTY
My Sixpenny home.
Tag @Sixpennyhome for a chance to be featured.