The Library
materials
Inside scoop: Feather Down vs. Poly Fill.
It turns out the old chestnut you learned in elementary school is true—it's what's on the inside that counts.

Sofas and chairs aren't meant to be merely admired; they're meant to be used (a lot). And without first trying one out, it can be tricky to know which furniture details are best for your home. While elements like fabric, color, seat depth, and aesthetic style are easy-ish to communicate online, subjective details like comfort and feel are a little more nuanced. With that in mind, we've answered some common questions about the subtle differences between our two choices of fill: Feather Down and Poly Fill.
Q.
Do feather down and poly fill feel the same?
Our Feather Down and Poly Fill cushions feel extremely similar. We engineer our shredded Poly Fill to mimic the decadent, sink-in experience associated with feather-filled cushions, and truthfully, sometimes we can't even tell the difference while testing.
If you were to Goldilocks-it and jump back and forth between the two, you might notice that the Poly Fill's texture is slightly spongier than the classic loft of the Feather Down, but again it's very subtle.
Q.
Are they constructed the same way?
Yes, aside from the part that's either feathers and down (Feather Down) or vegan poly fiber (Poly Fill).
Every seat cushion contains a foam core, regardless of whether you choose Feather Down or Poly Fill—this provides the seat with structure for longevity and stability so you don't sink so far into your sofa that you can't get up.
Beyond that, every seat cushion contains at least some (for both Feather Down and Poly Fill) vegan poly fiber. It's a soft, durable material that helps add balance to even the feather and down cushions.
That leaves a little less than a third for your choice of fill.
In the case of Feather Down orders, that remaining loose fill is feather and down (9:1 feather to down ration, because if we added any more down you'd sink all the way into the floor). For Poly Fill orders, it's just more of the same vegan poly fiber.
Back cushions contain no foam, and are filled with 70% feather and down and 30% vegan poly fiber for Feather Down orders. Poly Fill orders are filled with 100% vegan poly fiber.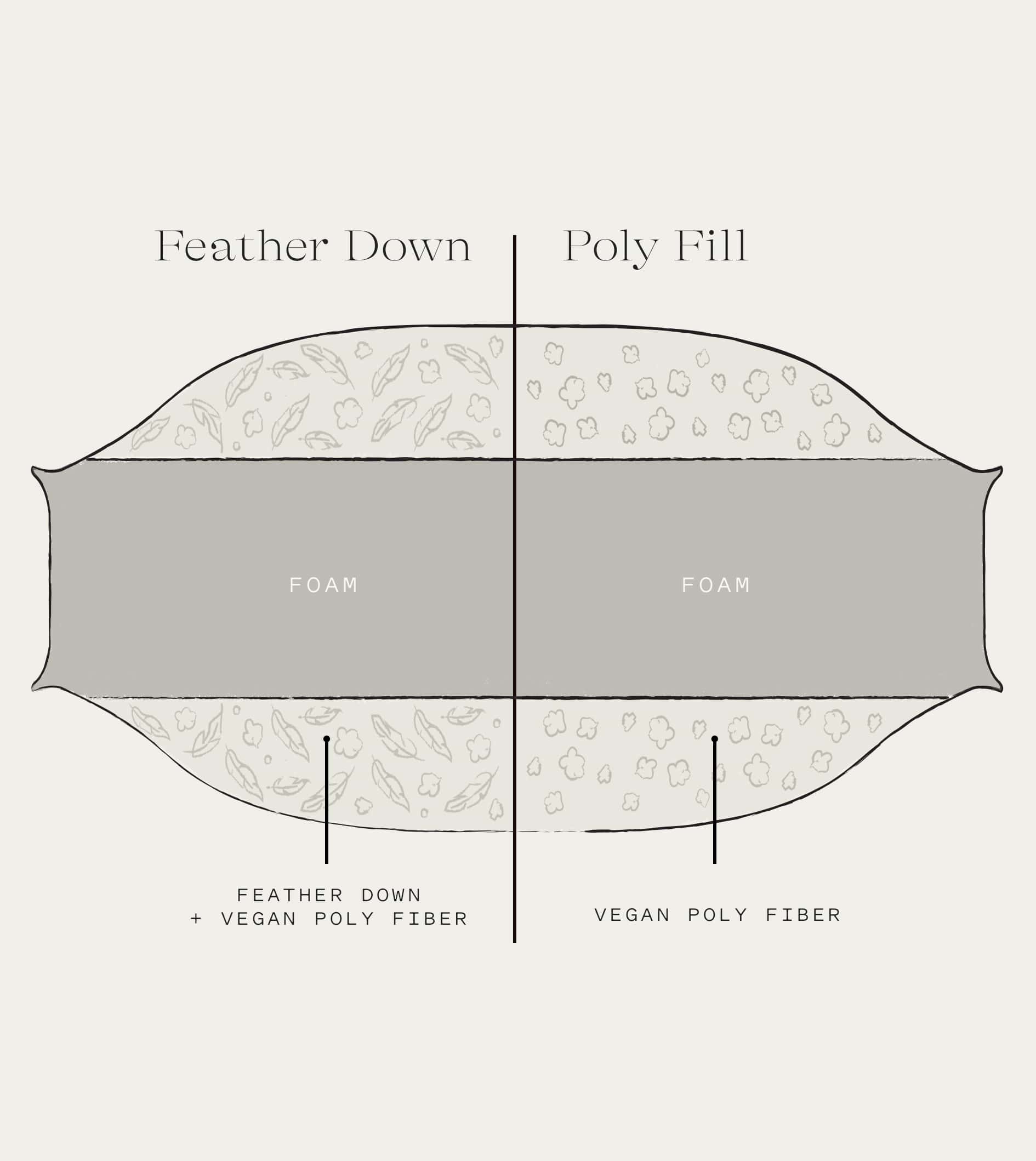 Q.
If I opt for feather down, will the feathers poke out or become loose?
Every time you sit down on a feather-filled cushion, the air that is released through the layers of material cause the contents to shift around. It's likely that over the years, rogue feathers will escape from time to time, but not as frequently as you might expect from a feather-filled cushion. We wrap the fill in a heavy-duty, anti-poke cotton with a very tight weave, specifically engineered to prevent feathers from jabbing or making their escape.
Q.
Do feather down and poly fill look the same?
Yup. Out of the box, the Feather Down and Poly Fill are practically identical, so no need to take visual aesthetic into consideration when deciding.
Q.
Do they require different upkeep?
No—since both fills contain loose filling (aka not just big bricks of foam) contents will shift around and shape to your favorite spots over time. For both Feather Down and Poly Fill, regular cushion fluffing is strongly encouraged to keep your item looking and feeling like its prettiest, perkiest self. It's one of several ways to keep your furniture looking its best over the years.
However, if fluffing and upkeep is a concern, it is worth considering how much fill your cushion will contain. Our puffiest collections have generous layers of fill on the top and bottom of the seat cushions, with back cushions that are 100% Feather Down or Poly Fill. The more fill a cushion holds, the more you'll sink in when you sit down—and the more you'll have to fluff to keep it looking lofty.
Q.
Is your feather down ethically sourced?
Yes. We're an almost entirely vertical company, which allows us to be very deliberate about the vendors we work with. Our distributor only uses non-live-plucked down feathers, which they obtain as natural byproducts of the food industry. They're audited and inspected by the Feather and Down Association every year, and their certification is renewed annually.
Of course, we understand that Feather Down isn't for everyone. It's why we put so much effort into making our Poly Fill as similar in feel as possible.