The Library
First thing's first: what even is nubuck leather? Think of it like a super soft, super-trimmed suede, with an even more velvety hand feel. Unlike suede, however, which comes from the bottom (weaker) side of the cowhide, nubuck uses the top side. It is robust, characteristic, and extremely durable. Our nubuck Meridian Leather is hand-sanded for hours to achieve a remarkably worn-in feel that's lusciously-soft to the touch. And luckily, it's not as difficult to care for as you might think.
Q.
How do I keep my Meridian Leather looking its best day-to-day?
Every so often, give your Meridian Leather a quick brush. (Brush? My leather?) It's true. Brushing the surface of the nubuck warms and distributes its natural oils, maintaining its luster and decadent texture.
Brushing the leather in both directions for five minutes should do the trick. For regular upkeep, it's best to use a brush with soft bristles specifically designed for the delicate nap of nubuck.
This is also the best way to remove everyday dust and dirt.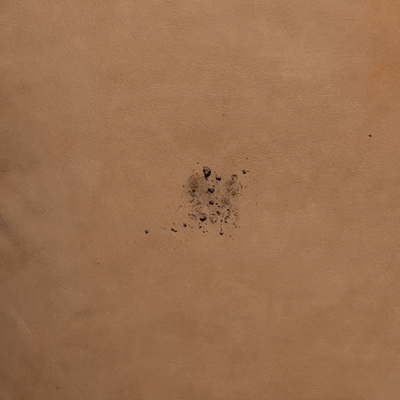 Q.
What about liquid spills?
As with most leather goods, you'll want to avoid moisture as much as possible. Of course, spills happen, but when they do, it's best to catch them quickly and gently soak up standing liquid with a clean, dry cloth before lightly dabbing to prevent stains.
Even though moisture can damage leather, Meridian Leather is naturally water-resistant which should buy you some time in the event of a spill. Remember, it's not "waterproof"—which typically involves coating the leather or adding synthetics into the material composition itself—but, when dropped on the nubuck, liquid sort of beads up and rolls instead of being immediately absorbed.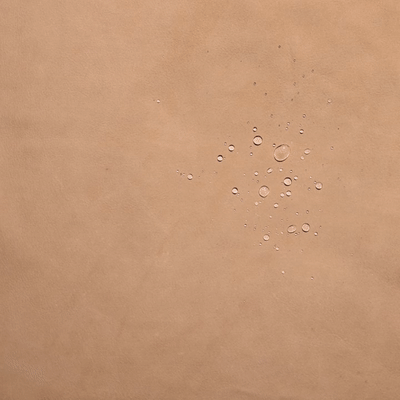 Q.
Can I use leather cleaning or conditioning products?
There are a number of well-reviewed leather conditioners available out there, and to be honest it's completely your call whether you'd like to coat your sofa in them. If you do, make sure it's suitable to nubuck furniture, and test it out on an inconspicuous spot to make sure it doesn't affect the look or feel of the nubuck once it dries. (We don't specifically recommend conditioning as it's hard to predict exactly how they will affect the nap and color of the material.)
Q.
Will Meridian Leather fade if placed in direct sunlight?
Yes. If fading is something you absolutely want to avoid, keep it away from direct sunlight. You don't have to store it in the attic, but if it must sit in a window, be prepared for some natural fading over time.
That said, one of the best parts about owning a high-quality leather piece is watching it break in and evolve. The wear, pressure and friction of everyday use will eventually form an exquisite patina and turn your Meridian Leather into a living heirloom.
Q.
What about dirt that's beyond the day-to-day kind?
Like if someone walks in from your backyard and props their sneakers on your Meridian Leather ottoman? Been there. For dirt that's a bit more caked in, you'll first want a brush with coarser bristles, like brass wire. (Don't go attacking it with steel wool or anything, we're still talking brushes designed with fine leather in mind.)
That dreamy softness you feel when you run your hand across high-quality nubuck is the raised nap, the desired result of the sanding process. Because the material's fibers stand upright, wiping the surface with cloth—as you would when cleaning a wood table—only spreads and grinds dirt further into the leather. (Think of it like trying to wipe powder off a shag carpet on a much smaller scale.)