The Library
Taking full advantage of modular versatility by connecting, rearranging or adding to your sectional sofa is easier than Tetris, and if we can say so—the results are far more aesthetically pleasing.

We've gathered a few common questions about our modular styles and a few tips and tricks on adding to, rearranging, and maintaining your sectional.
Q.
How do I connect my sectional?
Zinc "alligator clips" are affixed to the underside of every sectional component. These clips consist of two parts—a long "toothy" side (hence the name) and a metal peg it "bites" into.
To connect, twist open the long toothy side of an alligator clip so it is pointing directly towards the sectional component you want to connect it to. Make sure the two sectional components are perfectly aligned and push the two pieces together. If the pieces connect, you'll hear a satisfying "click."
Sectional components should connect with relative ease. If you feel a lot of resistance when connecting two pieces, try to avoid manipulating or aggressively shoving them together—this can bend or damage the hardware. Instead, double-check the clips' placement and confirm they're correctly aligned.
Q.
How do I disconnect my sectional?
It's relatively easy for two people to disconnect to pieces—gently tilt the sectional component with the peg slightly backward until you hear the clip disengage.
Be careful when disconnecting components—a slight tilt should be all you need before hearing the telltale "click". Lifting a component too far off the ground while still connected can permanently bend the hardware, making it impossible to reconnect the two sides.
Q.
My alligator clip isn't staying in place. Is it broken?
When troubleshooting alligator clip issues, always check to make sure the components of your sectional are correctly aligned (i.e., every toothy side is lined up with a corresponding peg). Often, the culprit is just a piece that's been jostled out of place.
If your sectional is properly aligned and the clips still won't click into place, examine the clip itself. Sometimes, the circular gasket on one side of the clip becomes loose, preventing the piece from staying horizontal long enough to attach to the other side. This snag has a relatively easy fix, as you can tighten the gasket with a standard wrench.
If the clip itself starts to separate from the bottom of the sofa, you can quickly tighten the screws with a screwdriver.
It's not common, but we have seen cases in which, after time and use, the spring attached to the alligator "teeth" gets stretched out, losing the resistance necessary to hold the teeth in place. If you suspect this teensy spring might be behind your alligator clips woes, reach out to our customer experience team at [email protected] for assistance.
Q.
Will the pieces of my sectional stay in place if I don't connect the alligator clips?
Honestly, connecting the clips isn't essential. The pieces of your sectional are sturdy and heavy enough to stay in place even if they aren't fastened together. (To be completely transparent, we never connected the alligator clips on our sectional, and our sofa hasn't budged.)
However, if your home includes rambunctious kids (or adults, or dogs) who often jump or fall onto the sofa, it's probably best to connect the components using the clips.
Q.
Can I add components in the future to make a larger sectional?
Absolutely! Modular sectionals are all about options. Add components until your sofa is so vast you've got to squint to see the other end. Take a section from the center and push it across the room to create a chair and loveseat set. Want to make your five-piece sectional an L-shaped sofa? Order a corner piece. There are no wrong answers, only possibilities!
If you're thinking of adding a single piece to your sectional, you can reach out to our team at [email protected] for a quote. Just remember that individual modular components are considered special orders and cannot be returned or exchanged.
Q.
What if my space is relatively small, but I love the look and versatility of a sectional?
We've got you! Many of our customers (this writer included) live in apartments or are looking to furnish a relatively small space. One of our most popular requests is for sectionals with only two "end pieces"—this special order makes it possible to add armless or corner pieces in the future. If you need something a little more custom, we can look into adjusting dimensions so that you have the perfect piece for your space.
If you love the style of one of our sectionals but need something smaller than what we offer in our regular assortment, reach out to our team at [email protected] and we'll look into getting you a custom quote. Just keep in mind that, like special orders, custom orders are final sale and cannot be returned or exchanged.
Q.
If I add a single component to my sectional, will the color be an exact match with my current slipcover?
We'll certainly do our best. But, since our all-natural fabrics are hand-dyed in small batches, there might be slight color variance between the new component slipcover and your original sectional slipcover.
It's also worth noting that your original slipcover has probably faded a bit, as all fabrics do over time. Friction, sunlight, washing, etc., can all contribute to fading—it's so gradual and subtle you likely don't even notice. But the newly dyed component that hasn't been used or exposed to the elements will probably look brighter than the fabric of your original slipcover.
We keep the dye lot—a record of the dye batch used in production—on file for every order, and we'll do everything we can to find as close a match to your fabric as possible. And, of course, you can always purchase an entirely new slipcover if you want to spruce up your expanding sectional.
Q.
My sectional cushions look like they aren't lining up with the frame. Is this a defect?
Probably not. Every cushion—back, arm, center, corner, etc.—is cut for its specific place in the sofa configuration. If something looks off about your cushions, check to see if the edges are tapered—you might have a center back cushion where an arm or corner cushion should be (it happens to the best of us!). A little rearranging and flipping upside down will likely do the trick.
If all cushions are in the correct place but something about your sofa still doesn't look quite right, your cushions might need an energetic fluffing session. Maybe the seams of your slipcover aren't quite lining up—the slip might be on the wrong cushion, or the fabric might just need a little zhuzh and steam.
For tips on how to keep your Sixpenny looking it's perky best, check out our post, "Getting to know your Sixpenny."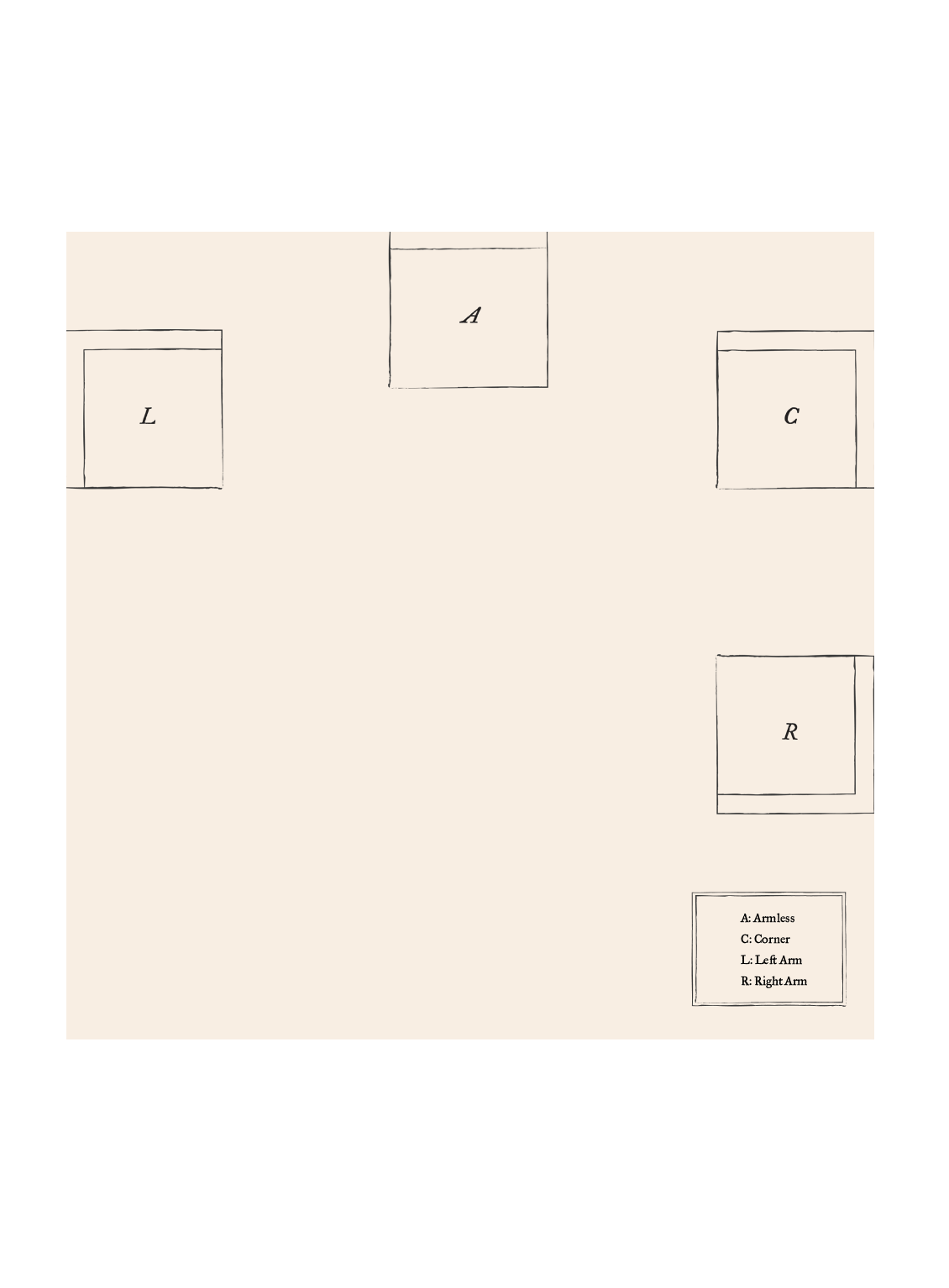 L-Shape Sectional configuration