The Library
Our fluffiest collection, Neva's sink-in soft cushions offer unparalleled cloudlike comfort. The generous seat depth and laid-back silhouette are ideal for story time snuggles or lounging away the weekend.
You'll love Neva if:
You dream of sinking into extra fluffy, sumptuously soft cushions.
You want a casual, loungy frame and deep seats that give you room to sprawl.
You prefer chic, minimalist décor with eye-catching details.
You need plenty of room to cuddle with your kiddos (or fur babies).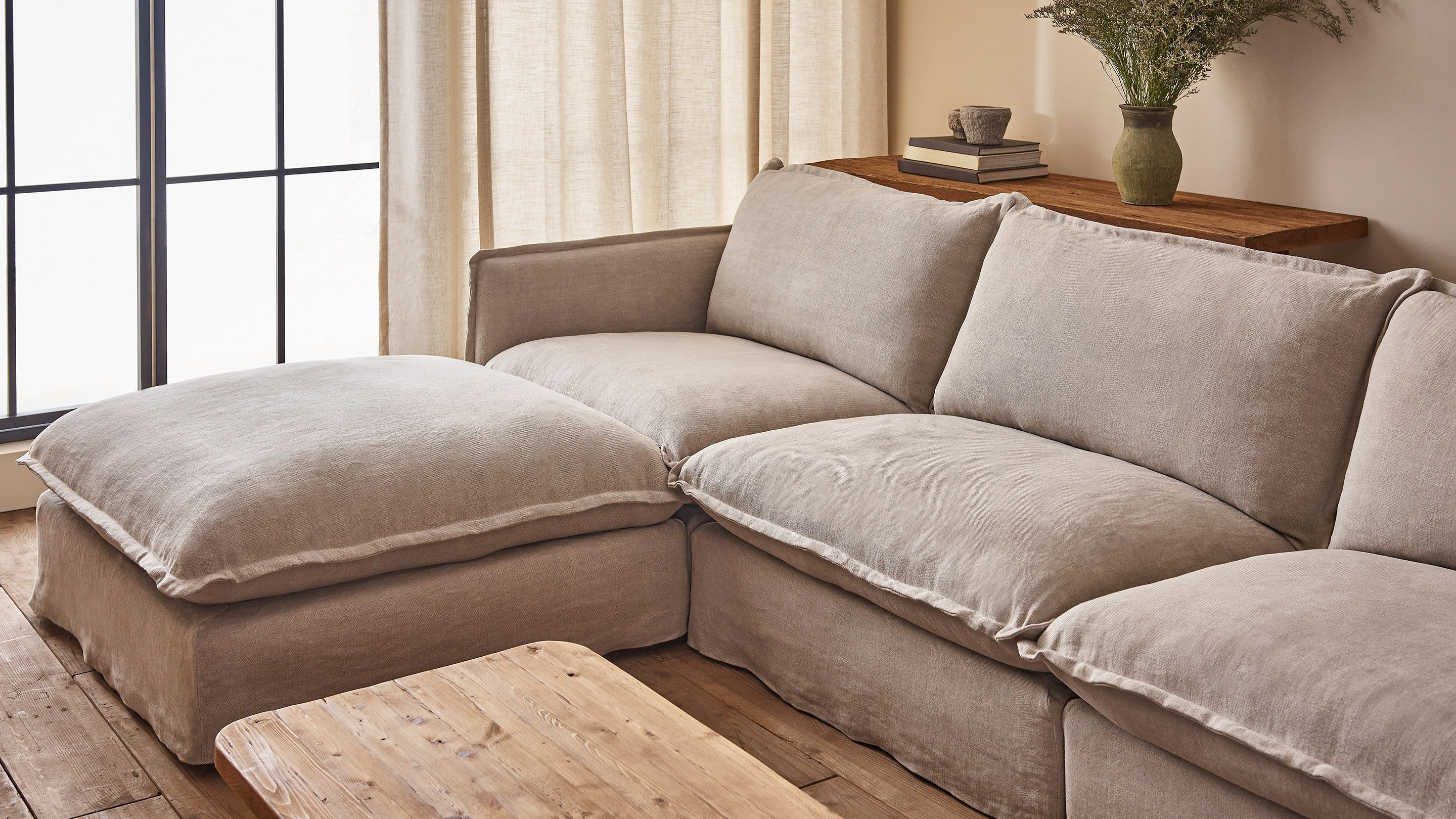 This one is for the sprawlers, the group cuddlers, the habitual knee-sitters. With our deepest seat, expansive, deliciously plump cushions, and squishy sectional lumbar pillows, Devyn is the very definition of contemporary, laid-back comfort.
You'll love Devyn if:
You like an extra deep, sprawling seat for laid-back lounging, bedtime story cuddles, family movie nights, your Great Dane, etc.
You want to sink into your cushions, as opposed to sitting on top of them.
You prefer a simple, contemporary silhouette.
You have a large-ish space.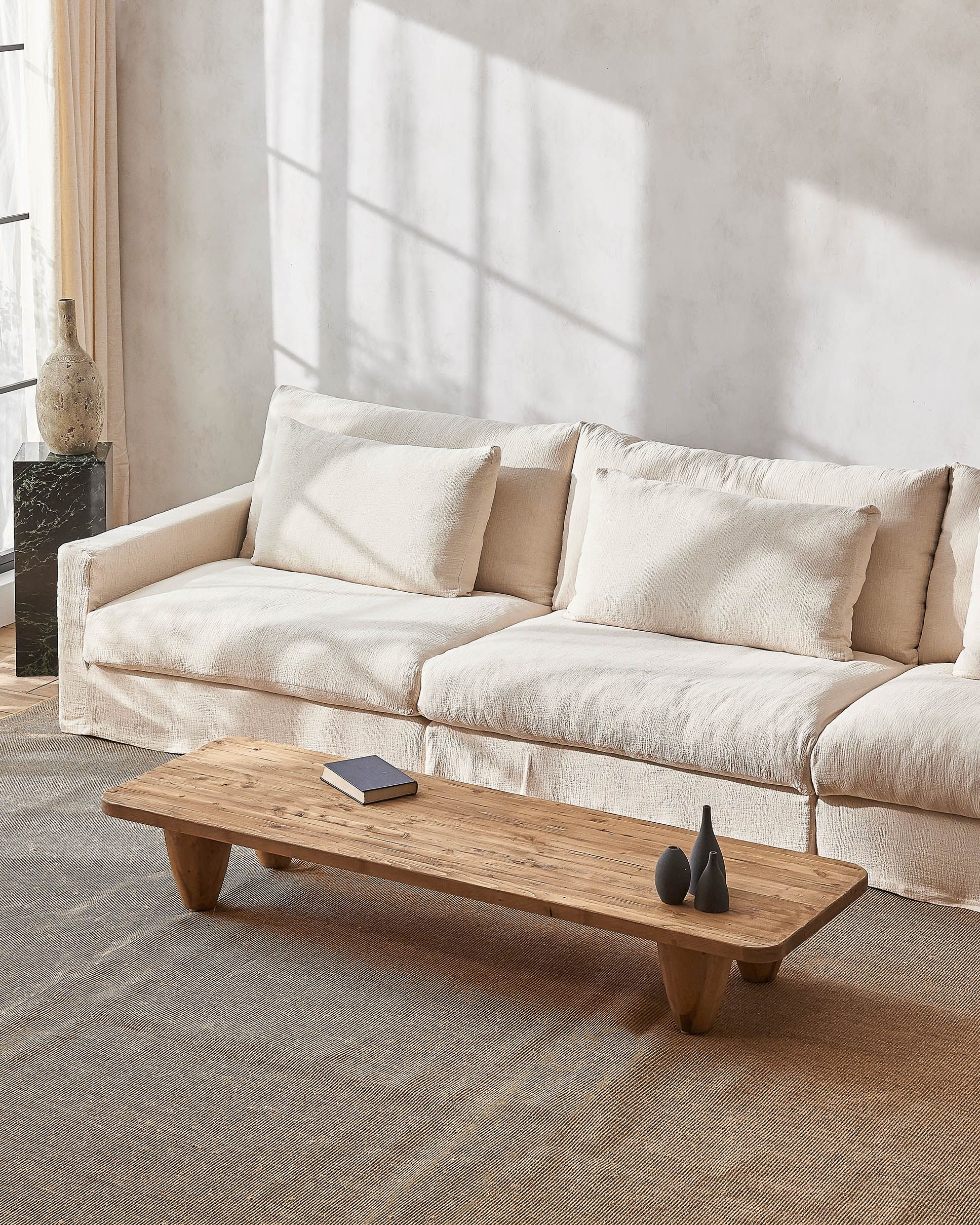 Loula is evocative of classic, Golden Age glamor with a winsomely curved, cushion-less seat. But its sumptuous softness is entirely contemporary, with extra plush, elegantly draped back cushions and layers of exceptionally squishy foam built into the frame.
You'll love Loula if:
You vibe with the quiet drama of a flowing curved silhouette with contemporary versatility.
You want a piece that's soft-but-not-too-soft and a bit loungy with generous depth.
You don't mind periodic fluffing to keep the plush back cushions looking perky.
You enjoy the feeling of being cradled by the perfect combination of fluff and squishy, malleable support.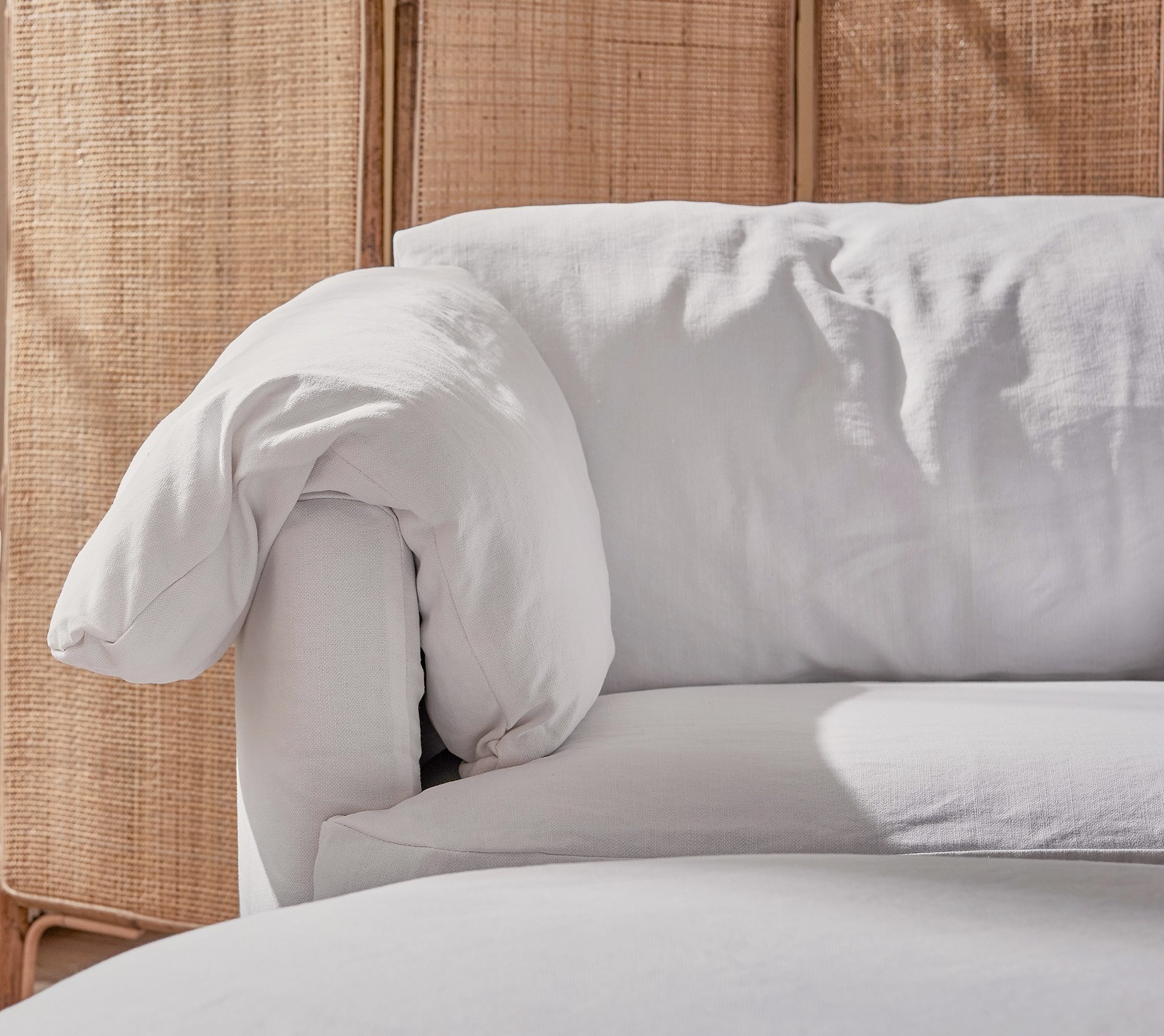 Sinking into Esmé's delightfully fluffy cushions and lounge-like recline will expand your definition of comfort. When you're surrounded by Esmé's rounded edges and playful curves, even collapsing onto the seat after a long day feels just a bit glamorous.
You'll love Esmé if:
You prefer the casual elegance and graceful curves of modern décor.
You enjoy the laid-back feel of a deep seat and lounge-like frame.
You like your cushions to be exceptionally plush with softness you can sink into.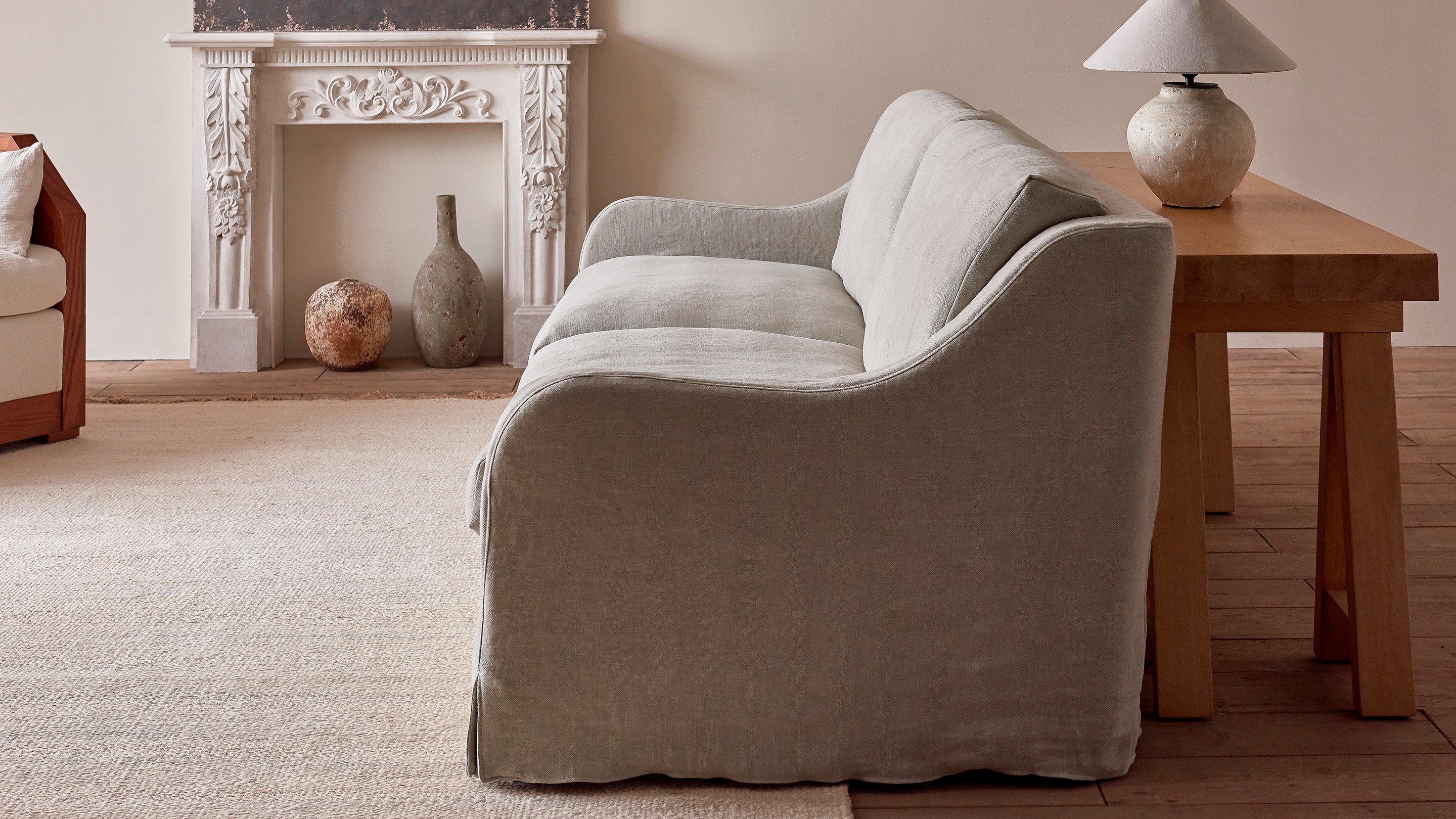 Don't let the open, minimal style fool you—there's a world of softness packed into Aria's simple silhouette. An ample recline and deep seats mean there's room for the whole family to spread out and sink in, and with the addition of Aria Grande, there's now an even larger, deeper Aria.
You'll love Aria if:
You prefer a versatile, modular design that can change and grow with you and your space.
You want to feel cradled by squishy cushions and plush lumbar pillows.
You crave lots of room to dramatically drape yourself across a sofa or pile on with friends and family.
You enjoy a laid-back, loungy frame for when you sneak in a daytime snooze.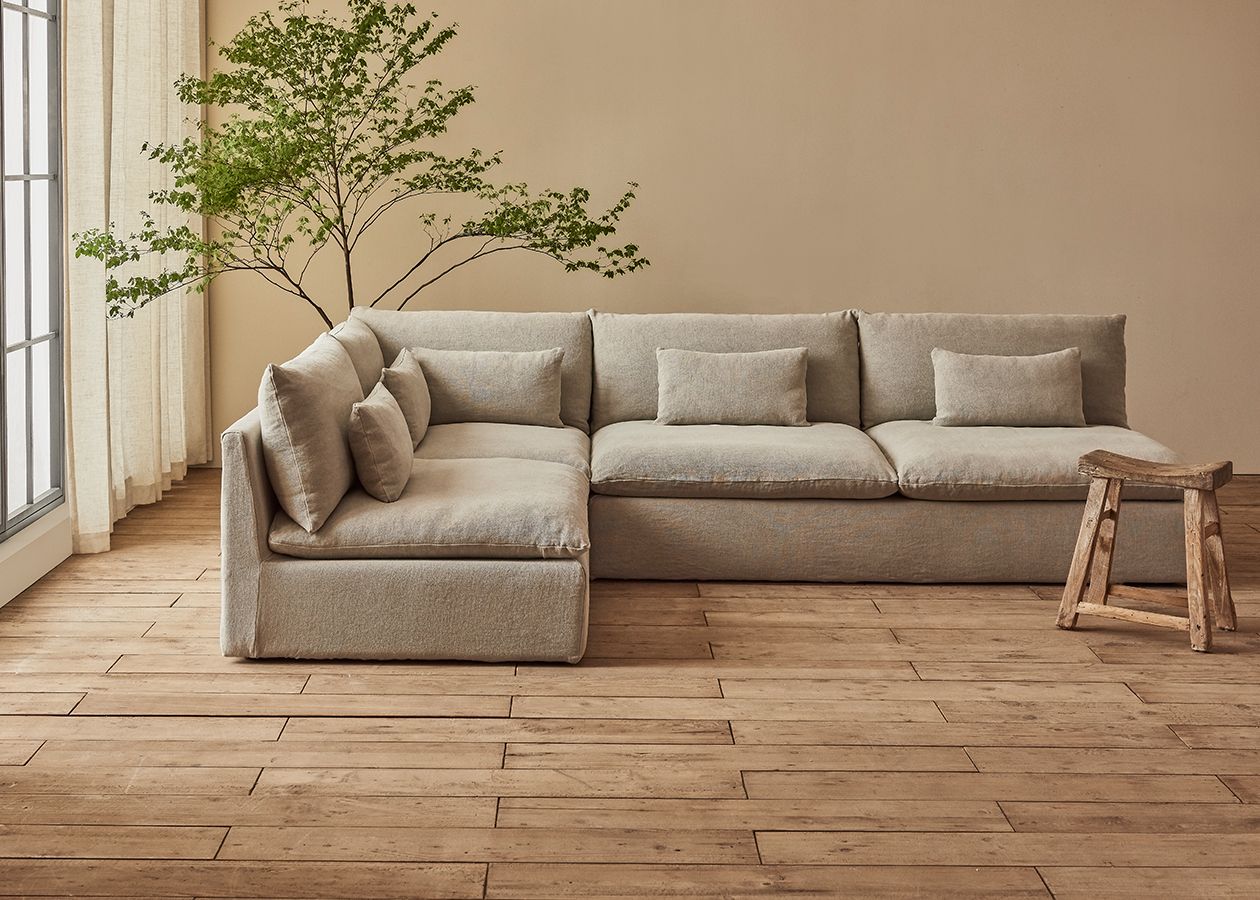 This modular showstopper is superbly soft, and not just because of the indulgent texture of the nubuck. A deep seat gives Camino a laid-back feel, and the puffy, tubular lumbar cushions sit at perfect elbow-resting height—the ideal sprawl-around sofa.
You'll love Camino if:
You're in search of an unapologetically bold piece to anchor your room.
You want laid-back comfort with the option to prop yourself up on plush lumbar cushions.
You dream of the exquisitely soft nap and nuanced color variation of top quality nubuck leather.
You appreciate the wonderful adaptability of modular design.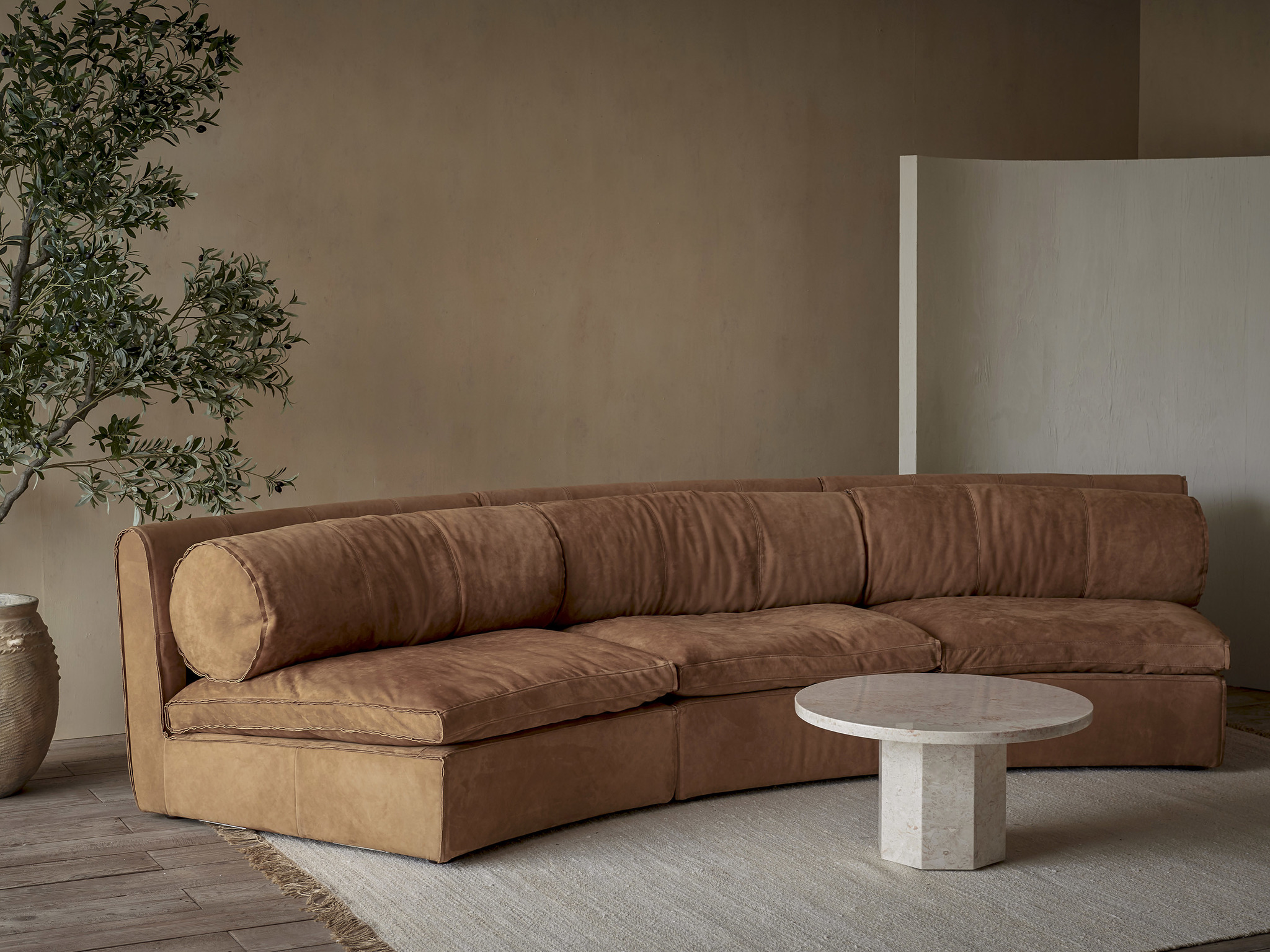 Elias' cushions are so delightfully soft, sitting down feels a bit like sinking into a warm hug. And, with a relatively upright bench and shallower seat, Elias offers a harmonious blend of softness and support.
You'll love Elias if:
You prefer a transitional aesthetic that blends elements of contemporary and classic design.
You're most comfortable sitting up straight, but don't want to sacrifice softness.
You're searching for something extra cozy, with plush pillows at your back and a seat you can sink into.
You or someone in your family is on the shorter side and wants to easily hop up from a seated position.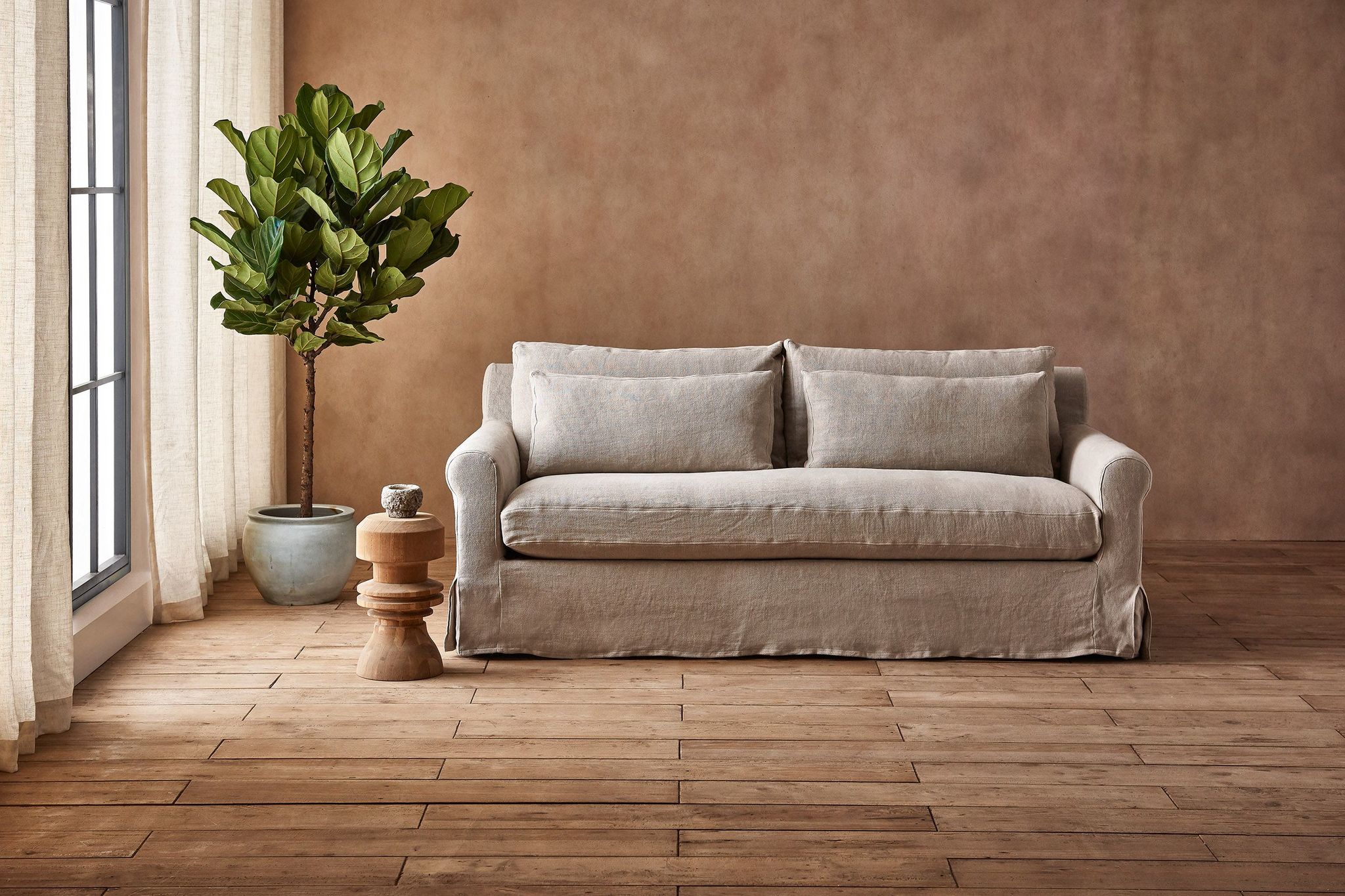 Ziki's classic curves are what catch your eye, but it's the surprising squish that will keep you in your seat. The gracefully sloping, cushion-less back conceals layers of supple foam for a refined look, while rounded shoulders and a plush bench cushion elevate everyday lounging.
You'll love Ziki if:
You are drawn to the chic minimalism made famous by European designers in the 1950s.
You prefer a soft feeling seat, but can live without big, puffy cushions.
You enjoy sink-in comfort, but don't want to feel enveloped when you sit down.
You like the gentle lean of a subtly tapered back as opposed to an extra lounge-like recline.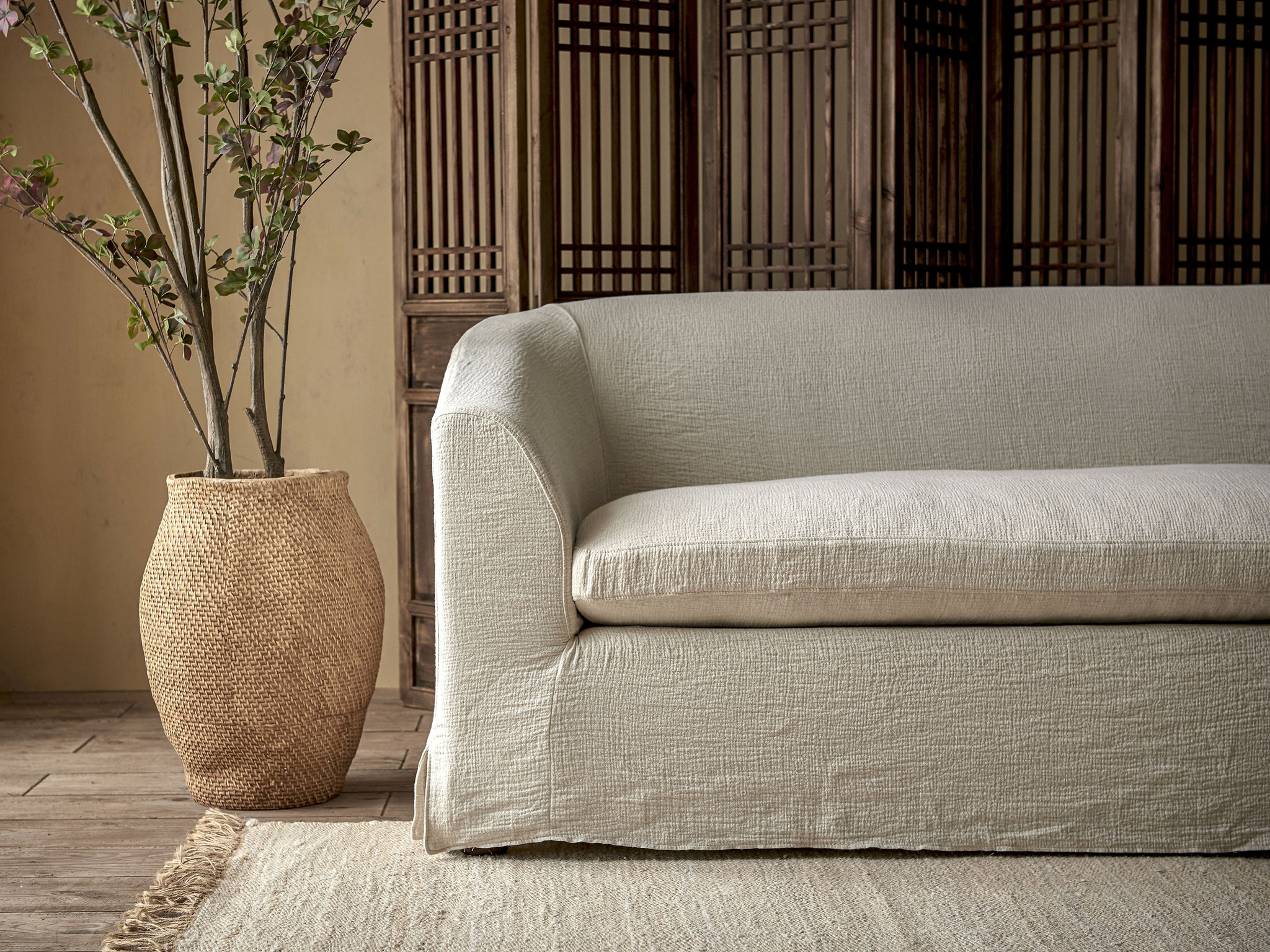 Olea's playful, rounded back cushions are extra plushy, making it sublimely comfy (and cute as a button). Olea's open, armless design and fixed slipcover give the neat appearance and clean lines of any style icon, while a fluffy bench cushion proves it's a softy at heart.
You'll love Olea if:
Your design aesthetic is a bit more modern, but still playful.
You enjoy the contemporary versatility of an armless frame.
You prefer puffy cushions you can move around for countless cuddling options.
You don't want to have to choose between adorably chic shapes and fluffy comfort.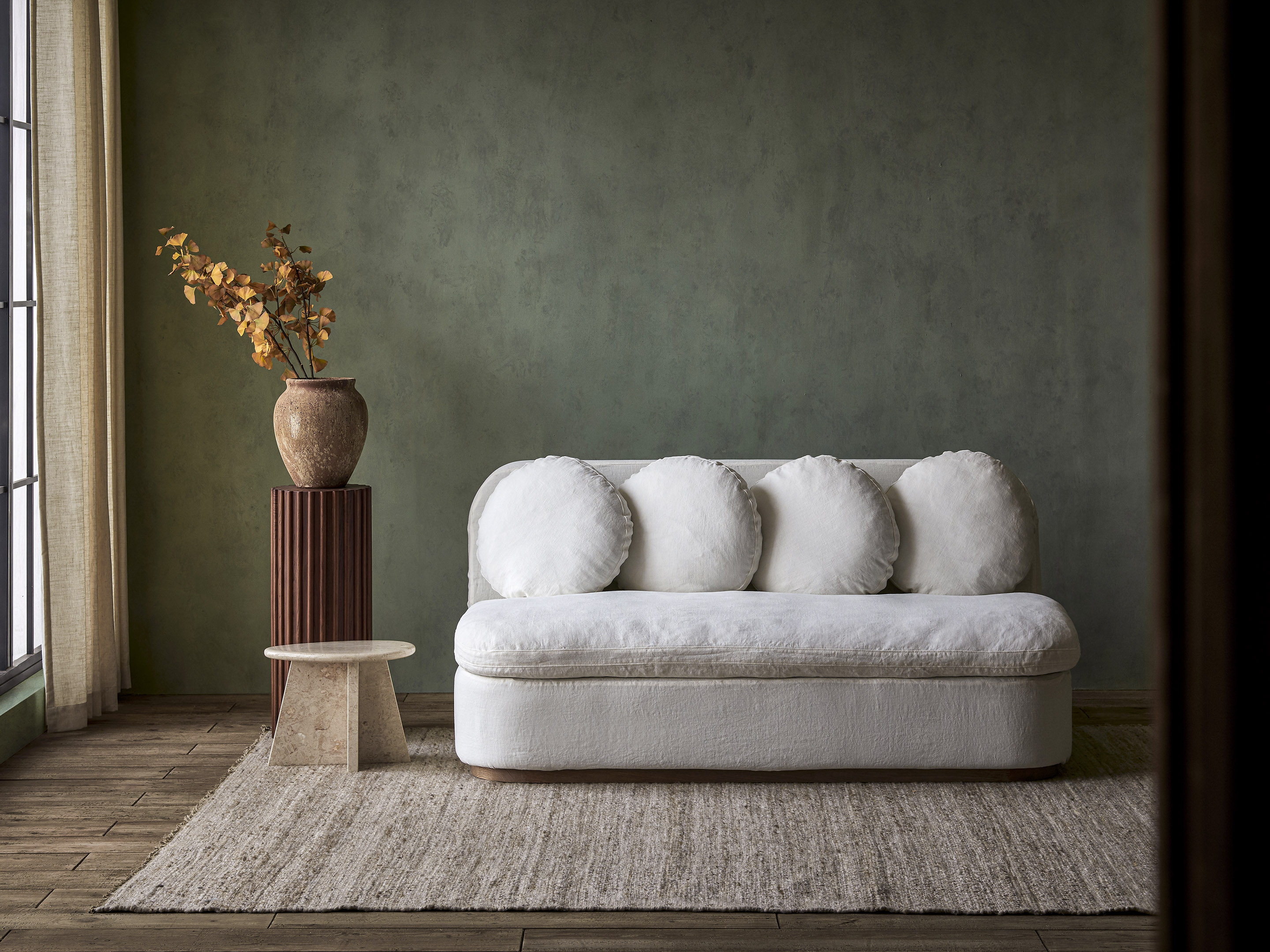 An upright back and shallow seat provide all the support you'd expect from Gabriel's contemporary shape and concise proportions. But with cushy pillows that rest on slim shelter arms and a hint of unexpected fluff, Gabriel is softer than its sharp looks let on.
You'll love Gabriel if:
You dig chic, contemporary design with clean lines and concise proportions.
You're searching for a comfy piece that will fit in a city apartment or reading nook.
You want a bit of extra back support or have trouble rising from a deep-seated cushion.
You like a cushion on the firmer side of the scale, with a bit subtle fluff.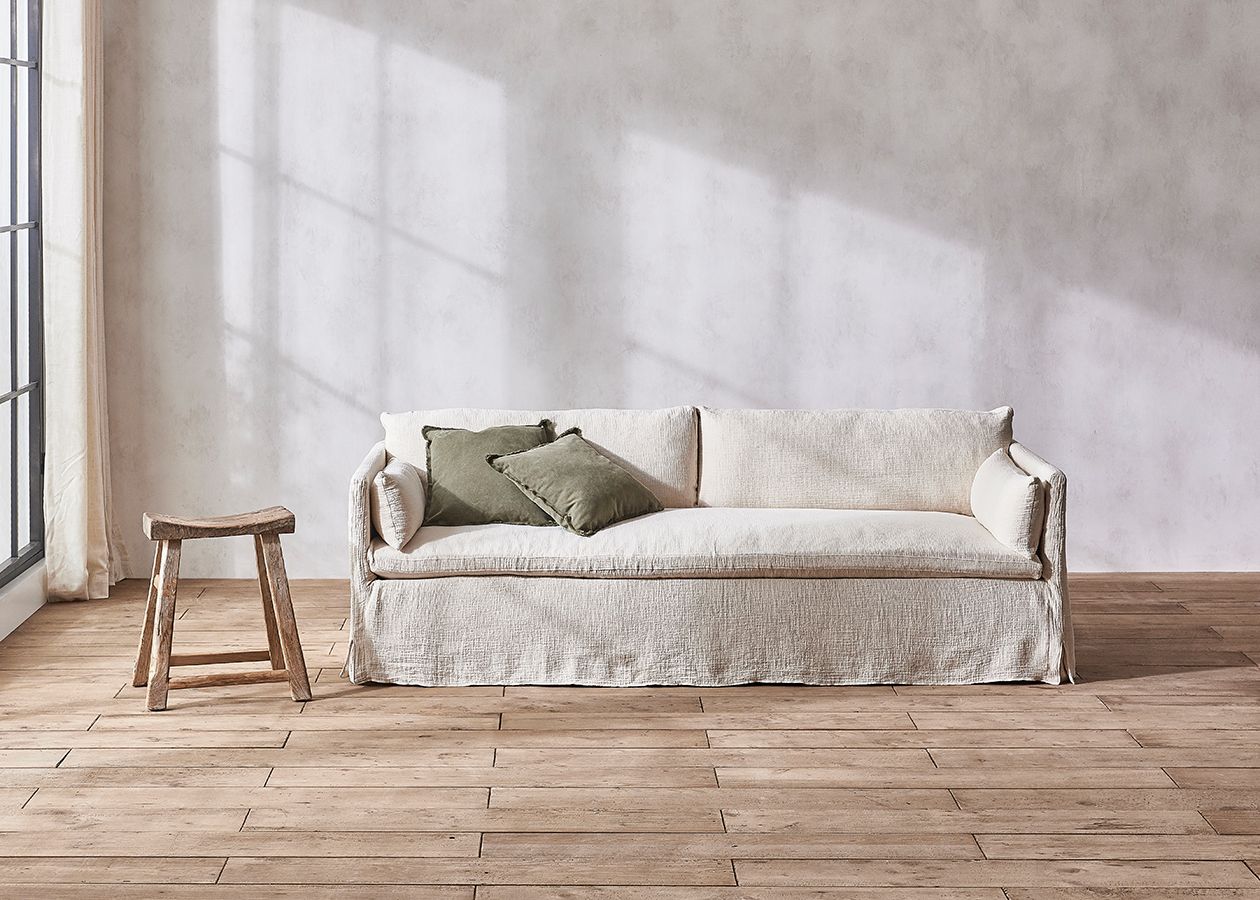 Amelia is the most upright and supportive of our collections, which makes it the perfect choice if you do a lot of entertaining—its slope arm and bench cushion are, after all, nods to parlors of the past. Amelia is also a lovely option if you're more comfortable with a bit of perk in your posture.
You'll love Amelia if:
You prefer your cushions to have more support than fluff.
You enjoy hosting parlor-like soirées.
You want to easily jump up and grab some more popcorn (or wine, who are we to judge!).
You prefer a classic aesthetic with a bit of a contemporary flare.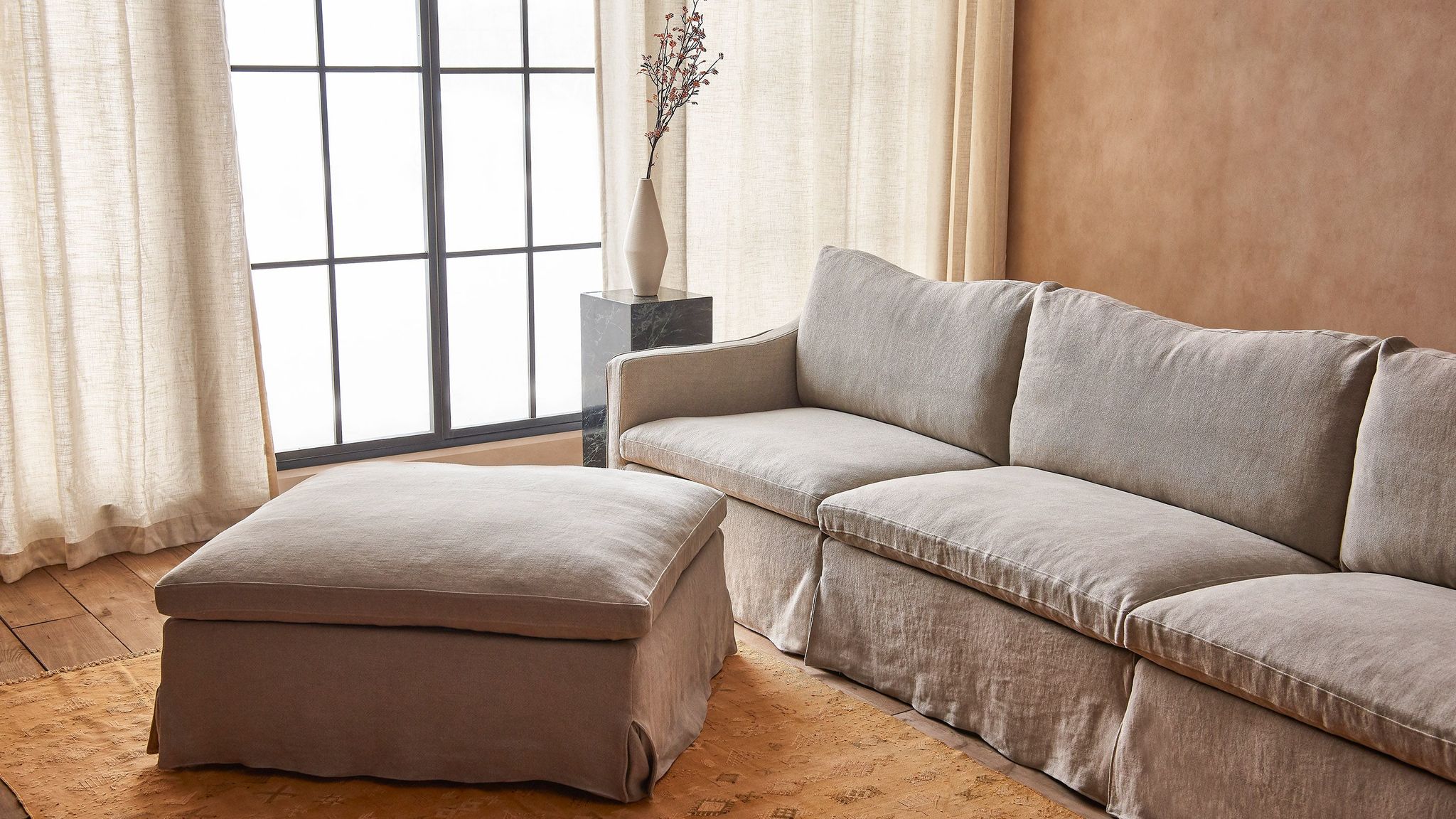 A great sofa should know you well.
Your favorite snacks, your inside jokes, your guilty pleasures on Netflix—it will come to know all these things. It will see you at your best and at your worst, and its comfort should offer you the safety and familiarity to be exactly yourself at home, no questions asked. But finding the right kind of comfort is a subjective endeavor (and a particularly tricky one online).
Before we start walking through our collections, keep one thing in mind: compared to the wide world of sofas, ours are quite fluffy. Yes, we offer products that range from fluffy to firm-ish, but the "firm" end of our spectrum won't feel remotely like the foamy, stiff seat in the hotel lobby or doctor's waiting room. The feather down, vegan poly fill, and high-density foams we use to overstuff our cushions are top-of-the-line materials intended for doughy comfort, and so our scale is adjusted for that as a starting point.
Let's help you identify which of our collections speak your language.
Comfort languages.
If human-to-human relationships are built on love languages, then human-to-sofa relationships are built on comfort languages. We find that using the parameters of cushion support and seat depth to be a helpful foothold when getting started and assessing how the various Sixpenny collections measure up to one another.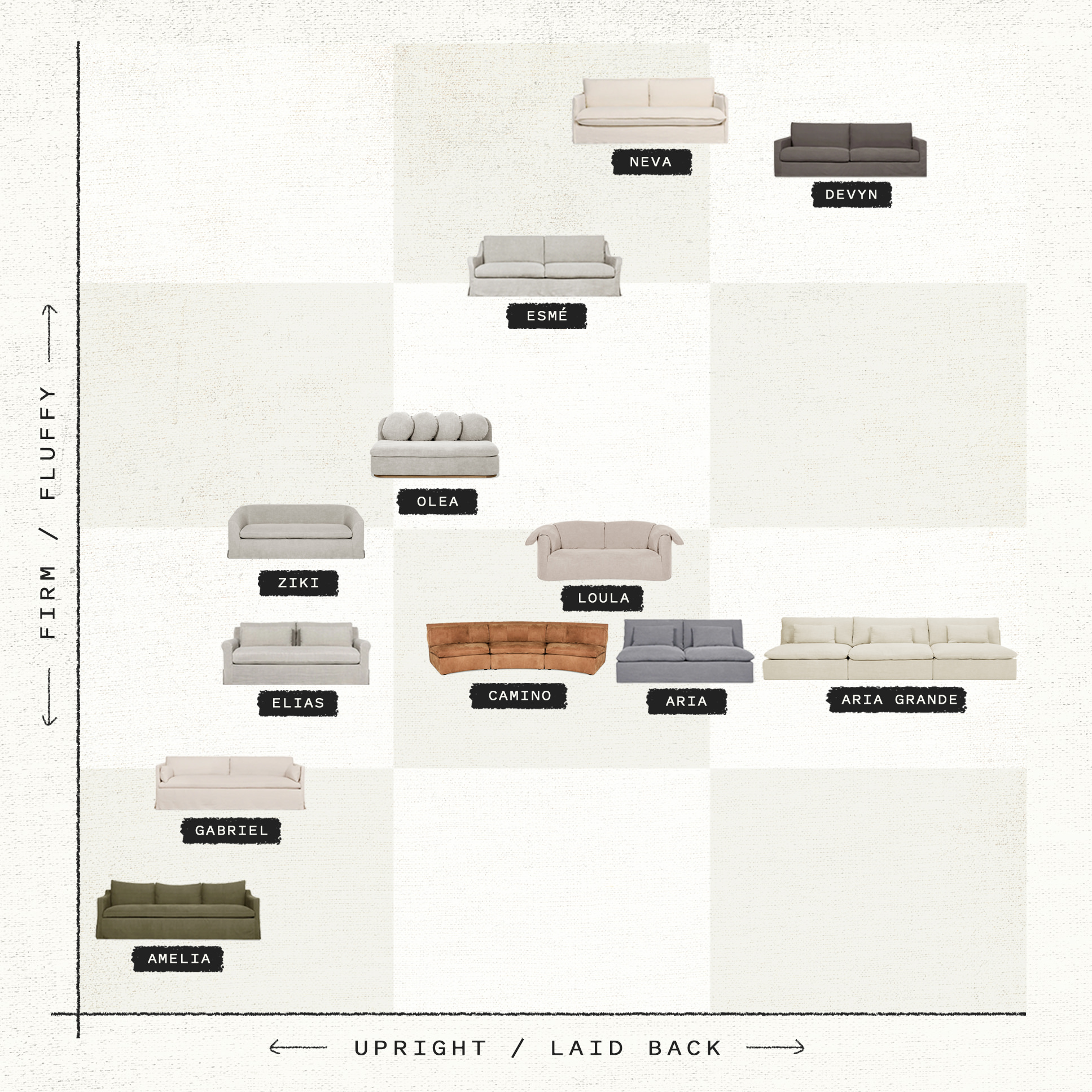 The seat cushion of the sofa is what usually makes the first impression. How squishy does it feel when your butt hits the seat? If you long for the decadent, sink-in feeling of an extra plump seat, start your search with Neva, Devyn, Esmé, and Aria. If you prefer a more perky, structured easy-to-pop-up-and-down sort of comfort, start with Amelia, Gabriel, Ziki, and Elias.
Also, keep in mind the cushions of our puffiest collections are stuffed with generous layers of Feather Down or Poly Fill. The fill is loose, which allows air to move through it every time you sit for that soft "poof" sensation. The more fill a cushion holds, the more you sink in, and the more fluffing is needed to keep it looking perky.
Seat depth—from the front edge of the seat to the spot where your torso hits the back cushion—determines how loungy your piece will feel. The pitch, or angle of recline, dictates how much you'll lean when fully seated. Generally, the deeper the seat and more angled the pitch, the more laid-back the piece will feel. For spend-the-weekend-sprawled-out-watching-movies comfort, Devyn, Aria (and Aria Grande,) and Neva are the way to go. For conversation-ready-drinking-wine-with-guests-after-dinner comfort, Amelia, Gabriel, Ziki, or Olea might be better.